The first Jews came to Sarajevo in the middle of the 16 century, spreading from there to smaller towns of Bosnia. 
The history of the Jews in Sarajevo can be traced back over 450 years ago when the first Jews arrivedin Saajevo as early as 1541 via Salonika. They were mostly artisans, merchants, pharmacists, and doctors. They built their own quarter, dubbed El Cortijo (the courtyard), in 1577 with permission from the pasha Siavush. The community built a synagogue in El Cortijo in 1580 with the help of a Turkish benefactor, in a building called Velika Avlija. By the end of the 16th century, the building where Velika Avlija stood became known as old Jewish Cathedral, Sarajevo's-first synagogue.
Int the 17th century, Jews of Ashkenazi descent began arriving in Sarajevo, fleeing persecution from Europe. The Jews already established in the city were of Sephardic descent, and the two communities remained separate until the advent of World War II.
The oldest Synagogue in B&H and ART Gallery

There are many wonderful remnants of Sarajevo's Jewish heritage scattered throughout El Cortijo, which lies Bascarsija, Sarajevo's Odl City, and is bounded by four streets: Ferhadija, Mula Mustafa Baseskija, Gazi Husrev Begova, and Jelice. Included amongst them is the Old Synagouge, wich now houses the Jewish Museum. The Jewish Museum chronicles the history of the Jewish community in Sarajevo, including a valuable collection of Ladino and other Jewish books, some printed over 200 to 300 years ago. The building is the oldest synagogue in Bosnia and Herzegovina, which was built in 1581 and has been burnt down and rebuilt twice, in 1679 and 1778. It became part of the Sarajevo Museum in 1966, and is dedicated solely to portraying the history of the Jews. It reopened in 2004, after providing sanctuary to much of the cit's ancient artifacts during the Balkan Wars.
Next door to the Old Synagogue is the New Synagogue, which now houses an art gallery owned by the Jewish community of Sarajevo. There is olso a Sephardic synagogue built in 1930., called Il Kal Grandi. It was once the largest and motst ornate of all the synagogues in the Balkans, but the Nazis destroyed and ransacked the interior in 1941.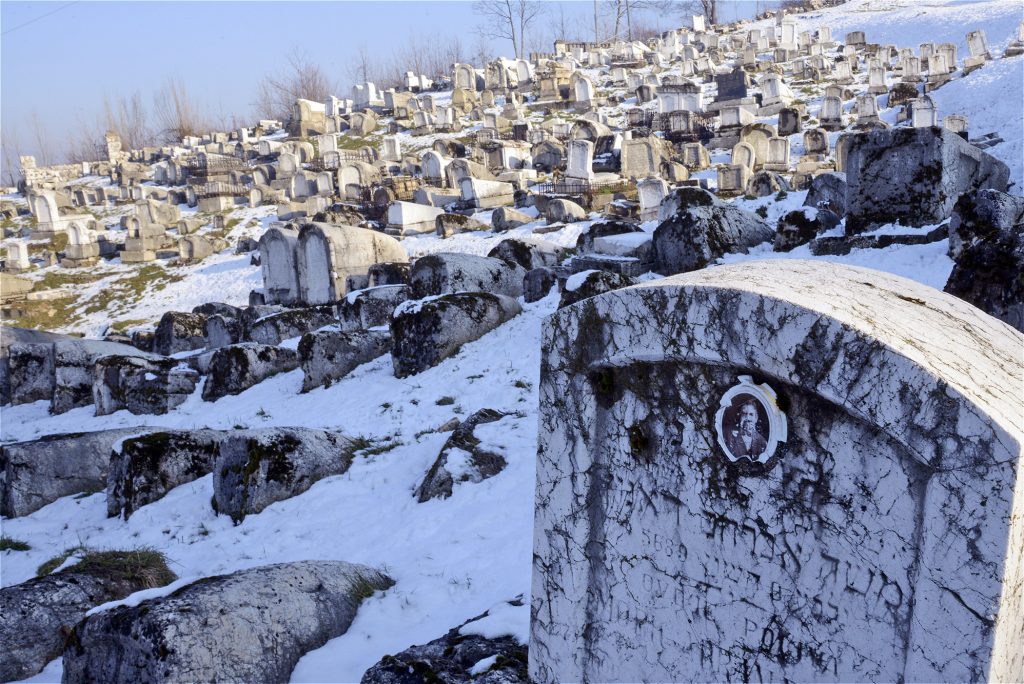 Cemetery Kovacici
The Jewish hillside cemetery, located in Kovacici, is one of the most important Jewish burial grounds in Europe, becouse of the shope of the tombrstones and the ancient Ladino inscriptions on them. Established by Sephardic Jews in 1630, the cemetery also became the burial site for many Ashkenazim in 1950. The cemetery has two Holocaust memorials, a Sephardic one erected in 1952, and an Ashkenazi one erected in 1962. 
Zeki Effendi is buried in the Old Jewish Cemetery in Sarajevo. His gravestone contains inscriptions in three script: Latin, Hebrew, and Arabic. His gravestone is possibly the only Jewish gravestone in the warld containing both the Hebrew and Arabic script.